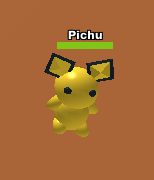 Pichu is an electric-type pokemon, along with Magnemite .  It is found in Pidgey Forest, or Rockbell City.
Evolutions
Edit
Pichu evolves into Pikachu at level 15. Raichu is not yet in the game.
Learnable Moves
Edit
Pichu originally has Scratch as its base move. It learns Thundershock at level 7. No other moves can be learned yet.